05 Apr 2023
9 Views
6 Mins to Read
Crafting content that can easily go viral isn't an easily executable task. The articles you publish must have something unique and appealing to attract the online population. From well-researched topics to flawless sentence structure, your written work must have everything that can impress its readers and make them share your article with others. You might have seen many writers whose content goes viral whenever they upload something new online. Every blog, article, or post out there captures a massive audience and sparks conversions on the social media platform. 
Hundreds of researchers are striving to unveil the secrets to the viral success of all such content creators. But why? It's simple; content is the key to earning major rewards from readers, marketers, and subscribers and assisting in improving brand recognition and financial success. 
Are you in quest of some useful suggestions that will help you in writing articles that go viral? If yes, this blog is mainly for you, as we will share valuable tips to craft viral written content. So, read this blog post until the end to learn how to write appealing content effectively. 
Discover Trending Topics 
Learning about the targeted audience's interest is one of the most crucial things for every professional writer. Writers need to understand what type of posts their readers appreciate and then they should strive to craft appealing content on such topics. Moreover, writing trending topics is another essential aspect that must be followed by every writer to achieve desired results. Making efforts to curate content on obsolete topics will surely provide you with nothing but a waste of time. It has been found in research that value-driven, relevant, unique, and inspiring articles usually appeal to the readers and can get appreciation from readers. Therefore, you need to ensure your crafted content has these attributes if you desire to make it go viral. 
Examining people's interests through social media platforms is also a useful approach to knowing the trending topics that people search for. 
Write Fresh and Engaging Content
One thing that every writer needs to understand is that no one will like reading content that is duplicated from other sources. Maintaining uniqueness in your work is inevitable for writers who want to inspire their readers. Gone are the days when plagiarized content went unnoticed. Now, the advancement in technology and easy access to utilities like free plagiarism checkers make it no uphill task for people to find out if a text is original or not.
If the results generated from the utility highlight any copied text, rephrase sentences to avoid any undesired situation. You can take the help of an online paraphrasing tool to rewrite article without typing a single word. This practice saves you from wasting time on writing similar text again and again and provides you with fresh and unique content instantly.
Appealing Headings and Subheadings
Many professional writers often underestimate the significance of attractive headings in content. Headings hold the power to make an article immensely eye-catching or smash its attraction, no matter how fantastically it was written. Research claims that most people compare content relevance with their needs by analyzing the headings included in the article. Moreover, engaging and captivating headings mostly drive readers through the entire text. Besides, the importance of subheadings can never be neglected. Adding subheadings and listings in your writing adds clarity and makes the text easily understandable for the readers. That's why it is a must for writers to pay attention to the attractiveness of headings and subheadings to make them attractive and eye-catching for the readers. 
Clarity and Conciseness 
The attention span of the readers, especially on social media, is immensely short, and they usually take a few seconds to judge if the content is relevant to their needs or not. Moreover, written content that includes hard vocabulary often fails to engage its audience. People mainly read content that can provide them with some unique and valuable information. So, using easy-to-understand vocabulary and unambiguously explaining your idea will surely increase the chances of its success. 
Besides, irrelevant and unnecessary data in an article reduce its attraction. Adding additional information to articles just to increase their word count will make your readers annoyed and distracted. Hence, try to be clear and to the point while creating content to keep the readers interested. 
Add Relevant and Captivating Visuals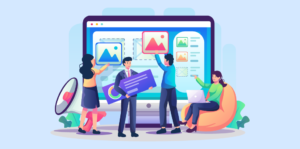 Adding visuals to your content is a remarkable approach that maximizes the chances of your content going viral. Incorporating striking visuals in your post with compelling content will surely help you capture readers' interest. Recent research clearly states that adding appealing visuals to your social media posts, blogs, and articles leads to an average of twice its shares and likes as compared to content without visuals. It has also been proved through research that relevant infographics and images increase its attraction and enhance its reach. But, it is a must to add only relevant and quality pictures in your written content. Adding your own clicked or designed images in your posts is highly suggested if you don't want your content to look too generic. The use of your pictures will help you personalize your articles. 
Incorporate Relevant Keywords
Adding relevant keywords to your written material is a great way to draw traffic. Make comprehensive and result-oriented keyword research and use the most relevant keywords in your content to enhance its reach. However, it is essential to understand the crowd of your content by stuffing keywords that will make it look unnatural. Search engines and even readers don't prefer reading such content and consider it spammy. Just imagine if you find a few words repeating again and again in the content you are reading. Will you appreciate it? 
Obviously no! Therefore, strive to write natural-looking content that gives readers a reason to share it with friends and colleagues on social media. Paying attention to presenting a unique and impressive idea translated through your compelling words will help in engaging the maximum audience. 
Make Your Content Interesting
Uniqueness is the key to making your content interesting and appealing. The center of all your efforts while writing should be the reader, not yourself. Mixing up your written material with interesting facts and images will certainly make people love it. Tapping into people's emotions and feelings of anxiety, joy, or anger is another useful way to make your content go viral. 
Share Content on Social Media Platforms 
Take advantage of social media platforms to promote your work. Post your written work on as many relevant social media sites as possible. Sharing blogs, articles, or research on social media will help build buzz around your great content. Adding optimal sharing buttons and captivating images will enable people to share your work easily with their mates and friends. 
Request for Feedback
The last part of content creation is its evaluation. Testing your written work to ensure its quality and worthiness is inevitable. You can send your article to professionals, supervisors, or individuals you trust to get this job done. But, be open to facing constructive criticism. This will help you analyze if the text is engaging or unattractive, or boring for the readers. Moreover, requesting feedback from your readers is also a practical approach that you can opt for. Involving your readers is a remarkable way to build traction and engagement. 
Final Words 
The tips shared in this post will certainly help you write articles that will engage your targeted audience and have the ability to go viral. Following the suggestions appropriately will also help you in enhancing writing skills and enable you to craft content like a pro. Taking advantage of modern facilities like grammar checkers and plagiarism checkers will also be useful for reducing your efforts and improving the quality of your work.